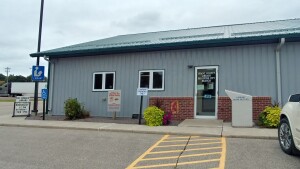 One of three branches within the Grant County Library System
Location:  400 Washington St.  Suite 102, Big Stone City, SD (Community Center)   
Mailing address:  P. O. Box 246, Big Stone City, SD  57216
Branch Manager:  Janelle Kelly   
Hours:

Wednesdays 1:00 pm-7:00 pm
Saturdays 9:00 am-1:00 pm
email:  bsclibrary12@hotmail.com
————————————————————————————————————————
***All patrons are asked to use hand sanitizer when entering the library.
Everything in library is kept clean, the door handles and check out desk are frequently wiped clean with disinfectant wipes. 
All returned books are also wiped clean before returning to the shelves.
Disinfectant spray is used at the end of each day open around the whole library room.
If you are home with school aged children…..and you would like some children's books, children's movies, children's book kits with activity pages, children's games or floor puzzles. We can make arrangements to get these items to you. Email bsclibrary12@hotmail.com to talk to the branch librarian.
———————————————————————————————————————–
2022 Summer Reading Program
The Summer Reading Program concluded at the Big Stone Branch of the Grant County Public Library on Wednesday, July 20th.   
Reading awards:  
1st Place:  Shayla Folk
2nd Place:  Colsen Folk
3rd Place:  Hailey Veizke
____________________________________________________________________
Summer Reading program 2021, Tales and Tails, at the BIG STONE CITY BRANCH library concluded July 14 with BINGO and root beer floats. 27 children participated in the free 7 week reading program. 
Two groups of kids participated, 11 in the younger group, and 15 in the older group.  Nursery tales were enjoyed with activities in group 1, and animals tales were talked about and enjoyed in group 2 with art projects, games and activities.
Top prizes in group 1 was Jade Henrich with 35 points, Colson Folk and Alex McMahon tied for 2nd place with 32 points each.
In group 2, Arielle Schmidt won first place with 35 points, and Sophia Schmidt and Shayla Folk both tied for 2nd place with 32 points.
The kids earned points by doing art projects, activity sheets, attendance at programs, and reading books.
Summer Reading Program Fun – 2021
---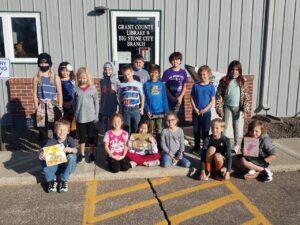 11.4.2020
2nd and 3rd graders from the BSC SCHOOL visit the BSC branch LIBRARY for an outdoor Storytime and library lesson.
 They learned the difference between a school library vs. a public library, who can come to the public library, what events are held and what items are available at the public library, Parts of the book, who is an author and illustrator, and more.
               August 6th Butterfly Day
2019 Universe of Stories – Summer Reading Program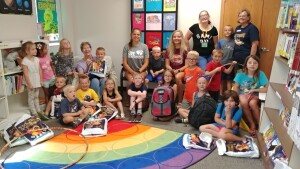 June 5th – performer Dave Lloyd