Newspapers on Microfilm
The Library has quite a selection of newspapers for research available on microfilm.  You may visit in person and do your own research.  If we research for you it is $15 per hour plus copies for out of county residents.
Big Stone Headlight 1903-1952                                           Strandberg Tribune 1915-1918                   Marvin Monitor 1915-1925                                                     Revillo Weekly 1904-1965                             South Shore Republican 1903-1918                                  Summit Signal 1909-1910                             Summit Independent 1909-1937
                                                Grant County Review 1880-present                                                                                                                   Milbank Herald Advance 1888-1991
Also, various census, post office documents, Dakota Presbyterian Church and miscellaneous newspapers.
 —————————————————————————-
 "Getting a Library Card"
1. Reside in Grant County – and provide proof of address
2. Or – provide a copy of current Pioneerland Card
3.  Or – pay nonresident fee
—Stop at Library or call for details–
——————————————————————————————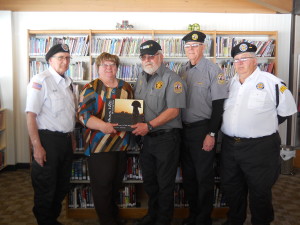 4-11-2018
Noel Cummins, Floyd Hermans, Bob Frink and Ron Herz on behalf of the Milbank-Sisseton Chapter 19 of the DAV presented Vietman Vets; Still coming Home to Jody Carlson, Library Director, for the Grant County Public Library.  The book tells the stories of 31 Vietnam Veterans who served between 1961 and 1974. These stories are of ordinary men and women who open up about their witness to heroism, sacrifice, loss, success, suffering and even battlefield humor. Reading their stories will in a small way make you a part of their life and keep their legacy alive.
—————————————————————————-
Accreditation for Grant County Public Library
On February 12th, during SD Library Legislative Day, the South Dakota State Library held an Accreditation Awards Ceremony in the Capitol Rotunda. Pictured on the right is Jody Carlson, Library Director, receiving the Accreditation Award for the Grant County Public Library from Daria Bossman, SD State Librarian. A total of 7 libraries received their accreditation at the award ceremony.
The SD State Library has established a voluntary accreditation program for public libraries in South Dakota to encourage the ongoing development of quality library service in the state. To quality for accreditation the library must meet and maintain a minimum standard in governance, administration, access, collections and resources, funding, staffing, technology and public relations