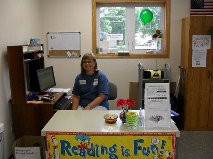 Grant County Library -Big Stone City branch 
Location:  400 Washington St.  Suite 102,  Big Stone City, SD  (Community Center) Mailing address:  P. O. Box 246, Big Stone City, SD  57216
Branch Manager:  Janelle Kelly
   

Hours:


Wednesdays 1:00 pm-7:00 pm

Saturdays 9:00 am-1:00 pm

email:  bsclibrary12@hotmail.com
—————————————————————————
2018 SUMMER READING PROGRAM AT BIG STONE CITY BRANCH LIBRARY
LIBRARIES ROCK
Registration is Wednesday, May 30, 4:00 to 7:00 pm.
Program starts June 6 and goes through July 18 with activities from 
2:00-3:30 pm each Wednesday. 
All children Age 5 through Grade 5 (finished grade this year).
*Children read books at home to earn prizes from the library.
*Attendance and Participation in Wednesday activities also earns them prizes.
READING ROCKS! program Wednesday, July 25,
August 1, and August 8 from 2:30 to 3:30.
Limit of ten children, Registration required.
Email bsclibrary12@hotmail.com to register.
(Prizes and reading time is not taken at this program.  It will be me reading to them about rocks, and doing rock activities together.)
June 13th SRP session: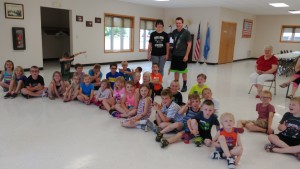 more SRP pictures