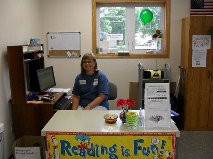 Grant County Library -Big Stone City branch 
Location:  400 Washington St.  Suite 102,  Big Stone City, SD  (Community Center) Mailing address:  P. O. Box 246, Big Stone City, SD  57216
Branch Manager:  Janelle Kelly
   

Hours:


Wednesdays 1:00 pm-7:00 pm

Saturdays 9:00 am-1:00 pm

email:  bsclibrary12@hotmail.com
—————————————————————————
2018 SUMMER READING PROGRAM AT BIG STONE CITY BRANCH LIBRARY
LIBRARIES ROCK
Registration is Wednesday, May 30, 4:00 to 7:00 pm.
Program starts June 6 and goes through July 18 with activities from 
2:00-3:30 pm each Wednesday. 
All children Age 5 through Grade 5 (finished grade this year).
*Children read books at home to earn prizes from the library.
*Attendance and Participation in Wednesday activities also earns them prizes.