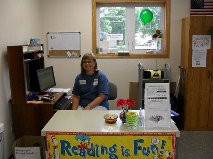 Grant County Library -Big Stone City branch 
Location:  400 Washington St.  Suite 102,  Big Stone City, SD  (Community Center) Mailing address:  P. O. Box 246, Big Stone City, SD  57216
Branch Manager:  Janelle Kelly
   

Hours starting January 2016


Wednesdays 1:00 pm-7:00 pm

Saturdays 9:00 am-1:00 pm

email:  bsclibrary12@hotmail.com
 ————————upcoming events———————
WHAT: SUNFLOWER  Storytime at the Big Stone City Branch Library (branch of GCPL)
WHO: Children ages 3-5
WHEN: Saturday, September 16 at 10:00 AM
COST: FREE!!
REGISTRATION IS REQUIRED FOR PLANNING PURPOSES!
There is a limit of 10 children so sign up as soon as possible.
Please email the library at bsclibrary12@hotmail.com  or stop by at the library during normal library hours to register. The library is located at 400 Washington Street in Big Stone City (Southwest corner of the Big Stone City Community Center).
Children will have a delightful time at our " Sunflower"  Storytime program which will include stories, finger plays & songs, craft and a small snack.
For further information contact Janelle at the library, bsclibrary12@hotmail.com .
"BUILD A BETTER WORLD"  2017 SUMMER READING PROGRAM
*************************************************************************************