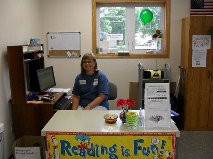 Grant County Library -Big Stone City branch 
Location:  400 Washington St.  Suite 102,  Big Stone City, SD  (Community Center) Mailing address:  P. O. Box 246, Big Stone City, SD  57216
Branch Manager:  Janelle Kelly
   

Hours starting January 2016


Wednesdays 1:00 pm-7:00 pm

Saturdays 9:00 am-1:00 pm

email:  bsclibrary12@hotmail.com
 ————————upcoming events———————
USED BOOK SALE
October 7th-October 28th  
Held at Big Stone Branch Library, 400 Washington St., Big Stone City
during normal library hours:  Wed 1-7, Sat 9-1
sold on donation basis
———————————————————-
November Upcoming events
Tuesday, November  7- Make 'n Take –
for any Adult that enjoys making crafts.
Aliza Anderson will teach how to use the cricket. Everyone will take home a project. Refreshments will be served. Register ahead of time. Limit of 10 ladies.  Free.
Saturday, November 11-Closed
for Veteran's Day and carpet cleaning
Tuesday, November 14 Books and Brownies
For children in grades 1-5 after school event. Snack of Brownies and juice.
Read 20 minutes with a partner, Read 20 minutes alone, and 20 minutes of being read to.
———————————————————————-
"BUILD A BETTER WORLD"  2017 SUMMER READING PROGRAM
*************************************************************************************