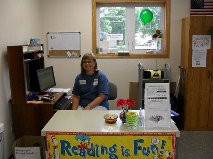 Grant County Library -Big Stone City branch 
Location:  400 Washington St.  Suite 102,  Big Stone City, SD  (Community Center) Mailing address:  P. O. Box 246, Big Stone City, SD  57216
Branch Manager:  Janelle Kelly
   

Hours starting January 2016


Wednesdays 1:00 pm-7:00 pm

Saturdays 9:00 am-1:00 pm

email:  bsclibrary12@hotmail.com
 ————————upcoming events———————
"BUILD A BETTER WORLD"
2017 SUMMER READING PROGRAM
The Big Stone City Branch Public Library presents "Build a Better World" during their summer library program which starts on Wednesday, June 7, and concludes on Wednesday, July 12.
The 2017 Summer Reading Program is open to children, Kindergarten through Fifth Grade (finished grade May 2017) with stories, activities, prizes, and more.
This program is free of charge.
For more information, email the library at bsclibrary12@hotmail.com or visit our library,
400 Washington Street in Big Stone City during normal library hours which are–Wednesdays 1:00-7:00pm, and Saturdays 9:00am to 1:00pm.
The Big Stone City Branch Public Library is one of three branches within the Grant County Library System and we use the Grant County Library card to check out items.
*************************************************************************************