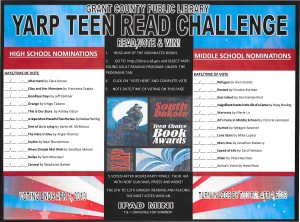 Yarp Teen Read Challenge
Read -Vote & Win
6th to 12th grade readers can participate. Voting ends April 1, 2019.  Five books read and voted on = after hours finale on Thursday April 4th.  Reading and placing the most votes win an IPad Mini.
For more information talk to Tammy.
———————————————————————————————————————-
July 18th Fun and awards: Summer Reading Program
Champion:  Alex Pekelder
Reserve Champion:  Alexis Schwagel
——————————————————————————–
SPRING 2018  –  The Grant County Public Library's YARP Teen Read Challenge concluded on April 1st. An after-hours party was held for those who read and voted for a minimum of 5 of the books nominated by the 2018 YARP committee. Savannah Stengel won the Apple iPad Mini for being the highest voting teen participating in the challenge. Grant County tallied 114 YARP votes- exceeding the goal of the challenge which was 100. Way to go teens! The books for the 2019 YARP program are currently being previewed by a panel of SD librarians and will be announced in the fall for the next years program.
————————————————————–
June 27, 2018 teen summer reading program
July 11th – teen SRP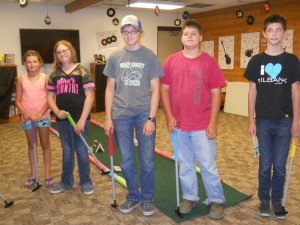 Teen Focus Group:
If you are a Freshman thru Senior ask about being part of the Teen Focus Group – see Tammy