March 19th – Author Visit
Audrey Jo Rider, author, coach and speaker will be our special guest at 6:30 pm.  
Audrey will also discuss her new book Uniquely You.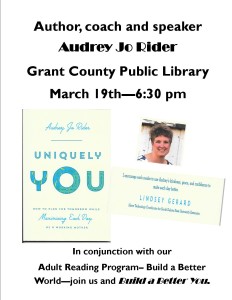 February 12th – March 23rd
The 2018 Grant Country Public Library Adult Reading Program is set to begin on Monday, February12th and conclude on Saturday, March 24th.  This year's theme is Build a Better World.
This program challenges adults to Build a Better World by exploring great books with themes and ideas of extraordinary people, self improvement or improving the world around them.
From fiction to non-fiction there are great books for everyone.  The reading program offers rewards for doing what you already love and incentives for those currently not avid readers.
For each book read through the conclusion of the program on March 24th, patrons will receive a registration slip to be awarded Reader of the Week.  Any book, magazine or audio book is acceptable and qualifies for the program.  Patrons who are enjoying eBooks can even bring their e-readers into the library and be given credit for those titles as well.   Themed activity sheets will also be available to complete to receive prizes.
No registration or fees are required and all adults are welcome to join the fun.  Watch for announcements concerning special events that are being planned to be held throughout the program.