—————————————————————–
click on above to view SRP photos and don't forget teen page photos
———————————————-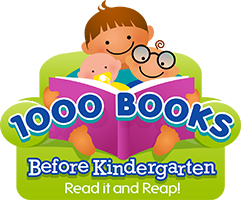 for any child that has not yet began kindergarten
       click on above for more info
——————————————————————————————————————-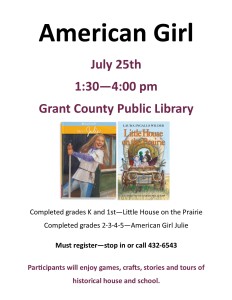 The Grant County Public Library is offering an American Girl program on July 25th from 1:30 to 4:00 pm. For children that have completed kindergarten or first grade the program will explore the life and times of Little House of the Prairie books by Laura Ingalls Wilder.  For children that have completed second, third, fourth or fifth grade the life style of 1974 from the American Girl books with Julie will be the topic.
The participants will learn about the life of in an earlier time period, create some items from the past and even visit a historic house and school.  The girls that have an American Girl doll are encouraged to bring their doll.
Please stop by the library at 207 E Park Avenue  or call 432-6543 to register as space will be limited.