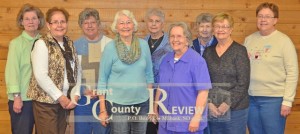 Not all volunteers pictured
The wonderful Library volunteers help keep the Library running smoothly.  The staff greatly appreciates them.  If you are interesting in volunteering see Jody.
Alice Bernard, Cheryl Conrad, MaryJo Crane, Marlene Dockter, Deb Hermans, Barb Kanthak, Carol Lohr, Marilyn Ott, Diane Pillatzke, Rebecca Loehrer, Shirley Zahn, Karen Davis and  Clarice Robertson.  Karen Dockter, LaVerne Doering, Vicki Torgerson and Hether Voeltz also volunteer for the Big Stone Branch Library.