Join the Friends of Grant County Public Library
NEXT MEETING:  September 9th at 12:05 pm
  call President Linda Comstock if you would like to help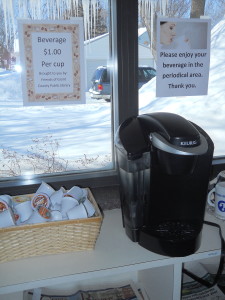 Stop in and enjoy and cup!
————-
Mission Statement
"The mission of the Friends of the Grant County Public Library is to provide support, advocacy and impetus to the Grant County Public Library as well as to increase public awareness and appreciation of library services."
—
Who are the Friends of the Grant County Public Library?
We're people just like you who appreciate the library and the many ways it serves us and members of our community.  Volunteerism and proceeds will support projects to enhance the library's collection, expand community awareness of  library services and support projects to meet new needs.
The "Friends of the Grant County Public Library" is a non-profit organization established in 2011.  Our purpose is to encourage and promote community participation and support for the activities and programs of the Grant County Library and to assist in the Library's growth and development.
Through membership, donations and volunteerism, the "Friends of Grant County Public Library" help support library activities for all ages.  Friends may organize special library events such as special book sales, author visits, raffles, luncheons, and more.  Friends groups may assist with already established library programs, promote the library through community events and also apply for grants.  Friends may help fund special projects, work with adult literacy or book delivery programs.
Friends groups promote awareness of the library and what is has to offer throughout the community.  You will meet others who love libraries and know that your contribution will touch the lives of people in our community.
Membership in the "Friends of Grant County Public Library" is open to all interested individuals,   organizations, and businesses.
How Can I Help?
…by becoming a member, donating, or volunteering your time and talents.
Call 605-432-6543 or email gclibrary21@hotmail.com or stop in and visit about becoming a member.