April 8-14, 2018 – Libraries Lead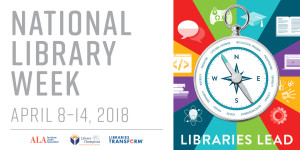 An annual celebration of the life-changing work of libraries, librarians and library workers. Libraries aren't just places to borrow books or study—they're also creative and engaging community centers where people can collaborate using new technologies and develop their skills and passions.
Stop and and see what we can do for you – sign up for door prizes and complete activity sheets for wards.